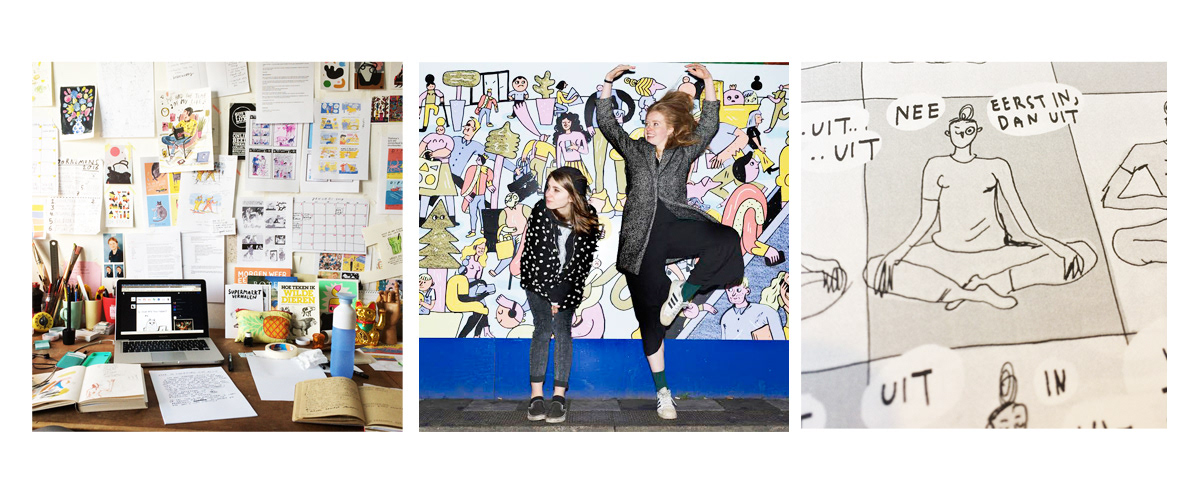 My workspace | my talented sister and me in front of our artwork | meditation is hard
Anne Stalinski is een illustrator, stripmaker en visuele verhalen verteller. Combineert graag tekst en beeld. Laat zich inspireren door de supermarkt en oude ansichtkaarten. 
Tekent ook live bij congressen, evenementen en festivals, om visueel verslag te leggen. 
Dromen voor de toekomst zijn; een eigen beeldcolumn of cartoon in een krant of tijdschrift en het maken van een graphic novel. 
Wat kan ik voor u doen? Illustratie in een tijdschrift? Visualisatie van een complex probleem of onderwerp? beeldcolumn over welk onderwerp dan ook? Live tekenen bij een evenement? 
Algemeen Dagblad, HP/De Tijd, ADmagazine, Friesland Campina, TEDx Groningen, CBK, Hard//hoofd, Uitkrant Amsterdam, Eye Care Foundation, Gemeente Groningen, Crossing Border festival, Nederlands instituut voor de Letteren, Strip2000, Internet Society Awards, Time shift Festival, Marketing Groningen, Malmberg, Fabulous mama & family magazine, Boekieboekie, Wobby, Drawing the Times en Mindshakes
1e plaats StripGrafiekprijs 2016
1e plaats Comik WebAward 2014
shortlist 'Benelux Beeldverhalen Prijs 2014
Shortlist BoekieBoekie StartAward 2013
Anne Stalinski is an illustrator, comicmaker and visual storyteller. Loves to make illustrations, stories, playfull infographics and cartoons. Likes to combine text and image. Finds inspiration in the supermarket and old postcards. 
Dreams for the future; drawing a weekly cartoon for a magazine, newspaper or blog, and publishing a graphic novel. 
Also does live visualisation at conferences, events and festivals. 
want to collaborate, say hi or ask a question?